Mozilla Firefox v4 Released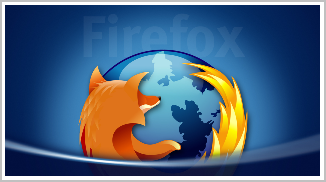 After a wait of nearly 8 months from when Firefox v4 first entered the Beta stage, this popular web browser has finally been released.
It has many new enhancements such as supporting adjusted tab locations for top visual priority and more effective and intuitive browsing, and synchronisation of settings across supported devices.
Awesome Bar
The "Awesome Bar" has been designed to allow the user to get to their favourite sites quickly.  If they don't remember the web address, the can type a term into the location bar (aka the Awesome Bar) and the auto-complete function will include possible matches from the browsing history, bookmarked sites and open tabs.  The Awesome Bar learns as it is used; over time, it adapts to the users preferences and offers better-fitting matches.
User Interface
All menu items have are now in a single button for easy access, and tabs have been given top visual priority so the user can focus on the content of the sites they visit.  Page reloading or cancellation can be accessed from a single button at the end of the URL bar, and the home button has been moved to the right next to a button for one click adding of favourite pages.
If the user has too many tabs open, they can reclaim browser clutter by selecting "Panorama" and dragging and dropping related tabs into groups.
Synchronisation
Firefox 4 allows for the synchronisation of settings, passwords, bookmarks, history and open tabs across Firefox 4 supported devices.
It allows the user to seamlessly connect their desktop and mobile Firefox browsers, so they can access browsing history, passwords, bookmarks and even open tabs no matter which device they use.
From a forensic point of view this could be an interesting feature as it will be possible to access years of desktop browsing from the first day they fire up their mobile phone, and use saved passwords from their desktop to fill out forms on their phone.
It is now possible for a user to surf the Web on their desktop, get up in the middle of browsing and have their open tabs ready and waiting on their mobile, just as you they them.
To activate this, the user needs to create a synchronisation account.  A unique synchronisation key is then created and Firefox is ready to automatically sync all of the user's browser data depending on the options set.
Figure 1
To test this, I downloaded Firefox Home to my iPhone.  When you run Firefox Home for the first time, it prompts you to create a sync account if you do not have one.  If you have an account, it generates a passcode which can be entered into the desktop application when adding a device.  To complete the synchronisation process, go to Options.
On the Sync tab, there is a link to "Add a Device".  The browser then prompts the user to enter the passcode and attempts to synchronise both devices.
Figure 2
When completed, Firefox Home then has access to the same data as the main browser.
Sidebar

This is your sidebar, you can add content here in the widgets section of admin panel